By now, you have heard about the labor shortages that are sweeping the HVAC industry. This is creating a huge dilemma. In fact, no other occupation on earth is in higher demand than HVAC professionals. To make matters worse, the demand is expected to grow by 15% through 2026. As HVAC business owners grapple with the effects of the labor shortage, many wonder if the next generation of workers (gen z born in the late 1990s - early 2010s) will help lessen the demand.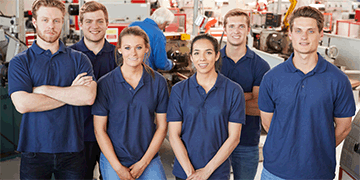 The pandemic has put an even greater strain on the HVAC industry labor shortage, and the number of skilled laborers retiring is still significantly greater than those entering the field. However, the future looks promising as individuals in generation z are starting to grow more skeptical of college, and consider trade school over traditional 4-year colleges. The student loan debt crisis, the increasing cost of a 4-year college degree, and the low pay rate of college graduates are all factoring into why gen Z may choose the trade school route. Additionally, the HVAC and trades industry offers the opportunity to "be your own boss" and this is also appealing to gen z.
Story continues below ↓
---
advertisement | your ad here
---
The tuition for trades like HVACR is significantly lower than the average cost of a 4-year degree. Apprenticeships also offer students have the opportunity to earn while they learn, and these factors are growing interest in trade school and careers in the trades industry. Of course, there is other work to be done to combat the HVAC labor shortages, but with a shifting mindset of the next generation of workers, there is a glimmer of hope.

Grow Your HVAC Business in the IAQ Market

The Healthy Home System Contractor Program provides HVAC Contractors and business owners with an opportunity to increase earnings on every service and installation job. Additionally, you'll provide homeowners and home builders with industry-leading products that are reliable, practical, and proven solutions that meet code and satisfy expectations for air quality, comfort, safety, and energy efficiency. Field Controls provides all the training and materials you need to offer the Healthy Home System on every job. Learn More About the Contractor Program.