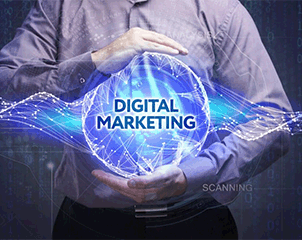 Home improvement projects have boomed during the pandemic. Many households have considered undertaking either complete or partial house renovation. They have hired home maintenance services, whether HVAC, roofing, electrical, or plumbing. Some have even gone as far as performing outdoor landscaping.

Itís apparent how many homeowners will continue to pursue home improvement projects while weíre still in a pandemic. As such, small businesses offering house remodeling and home maintenance services should be aggressive in their marketing approach. And when it comes to this, digital marketing is the key.

If you are a home contractor providing HVAC, plumbing, electrical, or roofing services, implement digital marketing strategies. That said, hereís how to promote your tradesman services during this pandemic:

1. Promote your services via your website
For service promotion, your website is the first place to start. Why? Having a business website is paramount in this digital era. Even brick-and-mortar stores must have an online representation of their business. These websites serve as their digital hub for marketing their products or services.

If youíre a home contractor offering tradesmen services, update your website. Go beyond just having your online portfolio. Make sure you have a robust site that allows you to promote your specific services. For instance, if youíre offering residential and commercial roof repair or replacement, maintenance, and inspection, highlight them on your website.

2. Boost your web presence and site traffic
Know, however, that itís not enough to have a business website. As a home contractor, you want your potential clients to find your web page and content. In a sea of digital competition, your website must stand out among all other competitors in your market. Thatís where search engine optimization (SEO) and pay-per-click (PPC) campaigns come into the picture.

An SEO campaign involves the process of optimizing your website, producing relevant content, and building links. With proper implementation, youíll see your web page rank high in the search engine results pages (SERP). On the other hand, a PCC campaign allows you to display your ads on SERP, but you must pay for every successful click. Ultimately, both digital marketing strategies will increase your online visibility and website traffic.

Story continues below ↓
---
advertisement | your ad here
---
3. Harness the power of content
They say that content is king in the digital world. Why? People look for valuable and relevant pieces of content when searching online. As such, content has the power to draw potential clients and convert them into actual customers. Thatís where digital content marketing comes into play.

If youíre a home contractor, consider starting a blog as part of your website. It is where you can regularly produce and publish content pieces. For instance, you can create how-to-articles, promotional video clips, and images of actual tradesman work. You can even share these content pieces on social media and other digital platforms to promote your tradesman services.

4. Employ email marketing
When it comes to business and marketing, the use of emails has long been proven effective and beneficial. In fact, Forbes said that email marketing remains the most potent tool in kicking a business up a notch.

As a home contractor, you may already have a list of emails of your old and regular clients. As such, send them personalized emails about the services you offer. In light of the COVID-19 crisis, you can even offer discounts and exclusive deals. Also, do your research and perform due diligence to get emails from prospective clients. Once you have qualified leads, you can send them promotional emails.

5. Stay active on social media
Of course, digital marketing wonít be complete without social media. Facebook, Instagram, Twitter, and LinkedIn channels have become extremely powerful. Not only do people use these for personal purposes, but they utilize them for business. In fact, social media marketing has become increasingly popular.

As a home contractor, be sure to create business pages on social media. On Facebook, for instance, you can publish and share valuable content pieces to encourage client engagement. On Instagram, you can post images of your tradesman services, such as HVAC maintenance, plumbing works, or roofing installation. You can even use social media messaging apps such as Messenger and Whatsapp to communicate with your clients.

Digital marketing is the key to promoting your tradesman services, whether HVAC, plumbing, electrical, or roofing. As a home contractor, consider the online marketing strategies recommended above, from promoting your services via your website to staying active on social media. Through digital marketing, youíll be amazed at how you can get more clients and boost your profits, even amidst the COVID-19 pandemic.